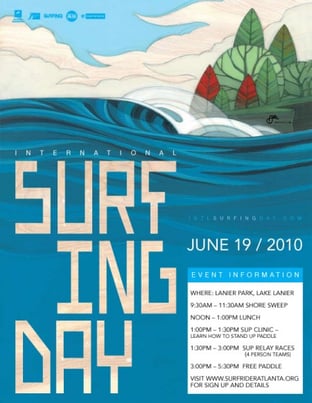 Come out and join the Surfrider Foundation Atlanta Chapter celebrate our beaches and the sport of surfing on June 19 for the 6th Annual International Surfing Day. We plan to help keep our local beaches barefoot clean with a morning shore sweep, followed by a great lunch, then the afternoon will be spent in the water on stand up paddle boards. If you've never tried this fun sport, now is the time. Local SUP dealer Paddle Anywhere will have boards to try and will be hosting some fun races and free paddle sessions. Come on out and spend a day at the beach!

Beach Challenges! There will also be some great Beach Challenges with prizes from Electric, Ocean Minded, DVS, O'Neill and more! Details to come.
Lunch Package: We've got a special lunch package for your convenience provided by Gezzo's, where a portion of the proceeds will go to support the celebration and Surfrider Foundation. The lunch package consists of either a chicken or veggie burrito filled with rice, beans, cheese, lettuce and pico de gallo served with chips and salsa--all for $12.
Tickets. Get your tickets here. IMPORTANT: Please sign up for a Free Event Ticket if you plan to attend. If you want lunch, please also purchase a Lunch Ticket. You can also purchase any number of Donation Tickets if you want to support Surfrider Foundation. Please select the appropriate number of each ticket. You don't need to print your tickets.
When: Saturday, June 19, see event schedule below
Where: Lanier Park on Lake Lanier, see directions below
There is a $4.00 parking fee per car so carpool if you can, also no pets and no alcohol.
EVENT SCHEDULE
9:30am – 11:30am Shore Sweep
Noon – 1:00pm Lunch
1:00pm – 1:30pm SUP Clinic – Learn How to Stand Up Paddle
1:30pm – 3:00pm SUP Relay Races (4 person teams)
3:00pm – 5:30pm Free Paddle
DIRECTIONS:
From HWY 400
• Take 400 North to exit 14
• Turn RIGHT on hwy 20 east
• Turn LEFT at the second traffic light onto Sanders Rd.
• Turn RIGHT on Buford Dam Rd. and continue for about 7.5 miles
• After crossing the dam, continue past the Dam Store and East Bank Park
• Take the first LEFT after the curve into Lanier Park. The event will be held in the pavilion.
FROM I-85 or 985
• Take 85 to 985
• Take exit 4 and turn LEFT onto hwy 20 west toward Cumming
• Continue on hwy 20 about 7 miles through several traffic lights
• Turn RIGHT onto Suwanee Dam Rd.
• Take until road ends and turn RIGHT on Buford Dam Rd.
• After the curve in the road turn LEFT when you see the Lanier Park Sign which will take you into the park. The even is in the pavilion.
The Sixth Annual International Surfing Day is made possible by Paddle Anywhere, Vitamin Water, Earthpack, Surfing Magazine and the Surfrider Foundation. For more information about International Surfing Day visit www.intlsurfingday.com